At the 27th Universal Postal Congress in Abidjan (Côte d'Ivoire), Mr. Masahiko Metoki (Japan) was elected Director General of the Organization, as was Mr. Marjan Osvald (Slovenia) as Deputy Director General. We warmly congratulate them and wish them every success in finding lasting solutions to the many challenges facing the UPU family.
Driving is an activity that Pascal has practiced in many forms, driving all kinds of vehicles as well as different companies, in a spirit of flexibility, innovation and... of course mobility.
1993: Pascal, then a sergeant-automobilist with the Swiss military police, on a mission in front of "his" Saurer 10 DM truck.
Commemorative photo of the authorities of the Banque Raiffeisen de Miège-Venthône-Veyras (from approx. 1960 to 2007) of which Pascal was President / in Anniversary brochure published on the occasion of the bank's 75th anniversary, 2007 / Saprim impression, Raiffeisen St. Gallen.
1984 marked the first international peace meeting for Pascal, then 16 years old and accompanying his father, a politician, to Berlin. Then came his first UPU Congress in Beijing, which was followed by several others...
1999: 22nd Congress in Beijing, with two representatives of the Swiss delegation (Reto Braun, DG Swiss Post and Hans Werder, Secretary General of Detec).
26th UPU Congress in Istanbul (2016), with Kenan Bozgeyik, Congress President and Ambassador Bishar Hussein, UPU DG.
What is the most important thing in Pascal's life? Unquestionably, the family:
first of all his own, then the big postal family. That's why he has always been keen to encourage people to get together (before the confinements and the coronavirus), around parties or outings, from Lake Geneva to Mount Pilate, including lively receptions.
2011 : UPU visit of the Cailler chocolate house
2012 : Visit of the Swiss Federal Parlament
2012 : Swiss reception in Doha
2019: Reception at the Swiss national Stadium
2020 : Reception at Kursaal in Berne
Africa invites you; the UPU and the Ivory Coast are ready to welcome you.
A Hymn to the Francophonie
Together, this is the title of this hymn to the French-speaking world, written and composed by international singer Celina Ramsauer, for more peace and respect for diversity.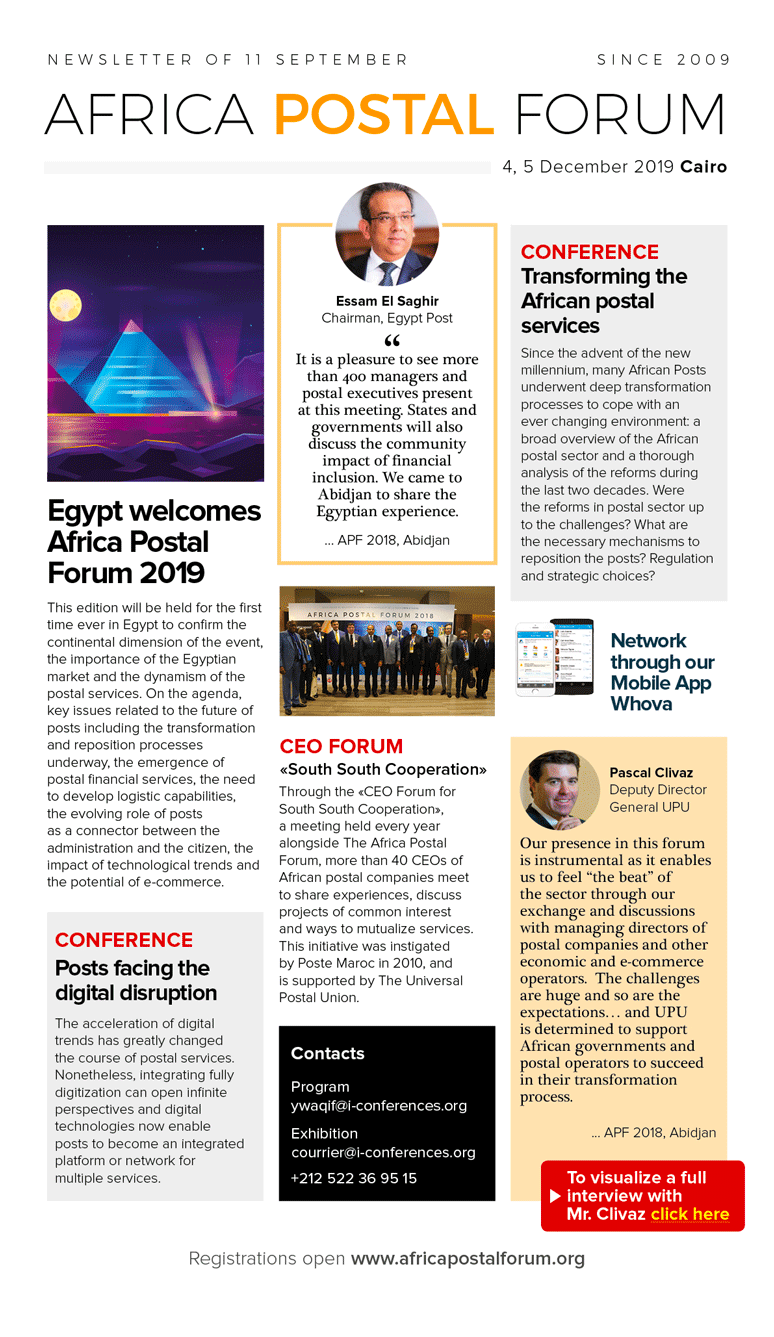 27. Congrès de l'UPU à Abidjan
Africa Postal Forum, UPU, 11 decembre 2018
APF2018 in "journal de 20 Heures" , 06 decembre 2018
During the annual meeting of the UPAEP (in Asuncion Paraguay), Pascal has shared his vision for the UPU 2020, including his major driving concepts :
innovation, cooperation and diversity.